SECTIONS

Dating a slide rule becomes difficult if a manufacturer did not imprinting a date code or serial number on the stock. Even then, some manufacturers recycled their serial numbers over time, and the stock could have been left on a shelf for a period of time before the slide rule was assembled and shipped. Catalogs are an excellent indication of when a model was produced or discontinued. Sometimes the copyright date in a manual is used to determine the approximate age, but one printing could span several decades. Dates that a design was registered or patented only suggests an approximate year a model may have been first produced, as the model may have been distributed a year or more before issuance (patent pending). The patent may only refer to a certain combination of scales used over a thirty year time on different models. Having contact with the original owner of a slide rule that remembers the year it was purchased helps on determining the age.

Other Slide Rule dates are currently in development. Assistance in this effort will be appreciated. Please refer to the museum library and individual galleries as this page is being built.
---
General Date Events (USA)
Found on manuals and other slide rule ephemera:
1909 - Copyright Act on published works passed by Congress. COPYRIGHT XXXX and © XXXX
1943 - 2 digit Postal Zone codes to increase efficiency of delivery because of a wartime shortage of staff. Example: St. Louis 12, Missouri.
1951 - 3 digit Area Codes in Phone numbers implemented by AT&T (Developed in 1947).
1963 - The use of 5 digit Postal Zip Codes in USA addresses adopted but not mandantory.
1963 - The change from state abbreviations to two letter codes (Colo. to CO, Ill. to IL)
1967 - The use of 5 digit Postal Zip Codes in USA addresses now mandantory.
1983 - The use of Zip+4 Postal Zip Codes began used by USPS

---
Slide Rule Startups (USA)
Many of the founders of United States firms producing slide rules had their roots as employees in other firms, just as modern entrepenuers break off from their employers and create their own start-up companies. The following time-line, researched by Denise M. Gustavson, in her article Necessity is the Mother of All Invention (Modern Reprographics, June 2000) is a good example. All these firms produced slide rules under their name as well as their primary business of drafting supplies:

1867 Keuffel & Esser, form an engineering supply house
1878 Eugene Dietzgen immigrates from Germany and settles in New York where he goes to work for Keuffel & Esser, now 11 years in business in the US. He becomes their Midwest sales rep.
1880 The Bruning family arrives from Nyborg, Denmark and settles in Cincinnati. Charles Bruning is 14.
1885 Eugene Dietzgen starts a business in Chicago that later becomes the Eugene Dietzgen Co.
188? Charles Bruning, his brother Jacob, and cousin Frederick Post arrive in Chicago. Fred Post goes to work at Eugene Dietzgen's company. The Bruning boys work for another blueprint company. They all learn the blueprint business.
1893 Frederick Post, Charles Bruning, and Jacobi form their own blueprint company in Chicago under the name Post, Jacobi, & Bruning.
189? Jacob Bruning and W.B. Huey form American Blueprint Co. in Chicago.
1896 Charles Bruning leaves Post & Jacobi, and after a honeymoon in Europe, returns to the US and settles in NYC. Frederick Post starts Frederick Post. Co. in Chicago.
1897 New York Blueprint Paper is founded by Charles Bruning in January.
1898 After a fire, Bruning rebuilds the New York Blueprint Paper Co., only to close it and return to Chicago. He sells his blueprint business interests to George W. Earle, founder of National Blueprint Co.
1899 In April, Charles Bruning returns to NY and starts the Charles Bruning Co.
1902 Bertrand L. Makepeace, who in 1895 started the B.L. Makepeace Co. in Boston, hires 14 year old James W. Dieterich as an errand boy.
1911 James Dieterich, who has worked his way up to blueprint foreman at B.L. Makepeace Co., goes west and lands a job as a salesman with the K&E branch in San Francisco.
1914 In Chicago, Charles Bruning buys out W. B. Huey's interest in American Blueprint Co. Jacob and Charles Bruning now own the company.
1915 In the America Blueprint Co. buyout, W.B. Huey and A.W. Huey acquire the coating rights to Bruning products and start the Huey Company.
1918 Frederick Post Co. opens a branch in San Francisco and puts Frederick's nephews, Rudolph and Victor Post in charge. This branch has no blueprint shop.
1921 Rudolph Post recruits Jim Dieterich from K&E and obtains financing for a blueprint operation from his uncle, Charles Bruning. Later in the year, the two buy out Bruning's interest and form Dieterich-Post Company.

---
Estimating Dietzgen Slide Rule Dates
| | |
| --- | --- |
| The downloadable charts are a matrix of Dietzgen slide rules, catalogs and price lists that was compliled by Bruce Babcock, Ph.D. and was published in the Journal of the Oughtred Society (JOS) October 1996, Volume 5, Number 2. This comprehensive research will enable you to find the period of manufacture for most every Dietzgen slide rule from 1887 through 1972. | |
---
Estimating K&E Slide Rule Dates
Most Keufel & Esser slide rules had serial numbers, but unfortunately they reused their 6-digit serial numbers several times. This chart was developed by Ed Chamberlain to help determine the date of manufacture, but one must first zero in on which period the slide rule was made. Look at catalog's in the museum library and visit Clark McCoy's:

Dating K&E Slide Rules
Here are some excerpts written by Clark McCoy:

Serial numbers can be used to approximate the manufacture date of a given rule however not necessarily the sales date. The common rules were produced in regular batches but the specialty rules did not sell as well and a given batch of rules might stretch over several years. It is not uncommon to find rules in the 1960s in 68 xxxx series packaging but 4000 series model numbers on the rules. The Fuller and Thacher's slide rules had their own serial number systems.

Model Numbers: There were four different number series in the history of the slide rule line.

1881-1883 -The numbers 479-481 were used.
1887-1899 -The numbers 1740-1749 were used. There was little if no logic to these numbers.
1900-1961 -The numbers 4000-4199 were used. There were logical groupings of numbers and dash numbers were used to depict length variations of a given rule type. "N" was used as a prefix many times to denote some change in a given model. The use of the "N" prefix is not always consistent. Removal of the "N" prefix also indicated a variation in the model.
1962-1975 -The numbers were converted to a 68-xxxx number series. The dash number scheme for length variations was abandoned. There are numerous examples of 68 xxxx series numbers on retail boxes and the slide rule inside has the old 4000 series number on it. We are sure that this was in the early 1960s while they were working through old 4000 series stock.

Cursor Types:

The cursors used on K&E slide rules evolved over the years. When they changed, all production of all models was switched over.There is a definite timeline to the cursor models.

Before 1906 - Slide rules either had no cursor, a brass chisel type cursor, or a metal framed glass cursor.
1913-1915 - A complex cursor that has been named the "column cursor" was introduced for duplex rules.
1915 - All slide rules were fitted with an all glass cursor. The first issue had metal end blocks.
1916-1933 - The metal cursor cursor blocks on the all glass cursor were replaced with plastic ones.
1933-1935 - The plastic cursor blocks were modified to have flanges to cover the edge of the glass.
1936- mid 1950s - The "improved cursor" with a metal rim around the glass was introduced.
mid 1950s-1975 - The glass cursor lenses are replaced with molded plastic ones.
---
Time Line for Frederick Post - POST - Teledyne-Post
Post sold a wide variety of slide rules, both under its own name and under the names of various manufacturers. Post itself actually made no slide rules; even those rules that bore the Post brand name were manufactured by others. At one time or another Post brand slide rules were made by Dennert & Pape, Nestler, Faber, Hemmi, Lawrence Engineering Service, Charvoz-Roos, Bruning and Gilson. Post also sold branded slide rules from Richardson, Vicari, Boucher, Sexton, Halden, Chandler, Ritow and Winslow.

See Who Actually Manufactured Frederick Post Brand Slide Rules, By Paul Ross

c1890 - Frederick Post founded in Chicago to manufacture and sell drafting, engineering and surveying supplies.
1903 to c1917 Slide rules manufactured by Dennert and Pape
c1920 to 1924 Slide rules manufactured by Nestler; Koch, Huxhold & Hannemann; and possibly Faber-Castell.
1924 to 1930 Slide rules manufactured by Koch, Huxhold & Hannemann.
1931 to 1941 Slide rules manufactured by Hemmi Seisakusho.
1932-1941 - Hemmi-manufactured rules have no date code and are marked "Made in Japan"
1942-1946 - WWII. Post buys slide rules from Lawrence Engineering Service, Charvoz-Roos, Grafton Plastics, and Gilson. All Post slide rules with "Made in USA" come from this period.
1944 - The word 'POST' surrounded by an ellipse becomes the permanent logo.
1946-1950 - Post resumes rebranding Hemmi slide rules, rules marked "Made in Occupied Japan".
1950 - Two character date codes appear (see Hemmi date codes).
1951 - Hemmi drops the "Occupied" and marks slide rules "Made in Japan" or just "Japan".
1951 - Hemmi creates the Post Versatrig (1450) and Versalog (1460) Slide rule exclusivly for the North American Market.
1957 - Success of the Versalog prompts Hemmi to make pocket versions, the Post pocket Versatrig (1451) and Versalog (1461).
December, 1967 - Teledyne Acquires Frederick Post, slide rules sold under both the Post and Teledyne Post names.
June 1969 - Versalog II with "A" scale introduced. Still labeled as Post
1970 - Versalog II Date codes from 1970 are now labeled as Teledyne Post
1972 - The Frederick Post brand name disappeared and the Teledyne Post '44' numbering system was introduced.
c1975 - Teledyne Post ceases selling slide rules.


The date code (see Hemmi) is in the form 'HF' where the first letter identifies the year according to the system 1951 = B, 1952 = C, 1953 = D, etc., and the second letter identifies the month according to the scheme A = January, B = February, C = March, etc. Thus, 'HF' indicates a slide rule made in June 1957. Hemmi continued with this dating system until the end of production.


Frederick Post Logos
from 1903-1975
SRTCo Frederick Post Model Number Cross Ref
Go to Slide Rule Trading Co. for a clickable index.
---
Relay, Ricoh and re-branded variants
1951 - Post war Japanese manufacturer Nippon Slide Rule founded, and begins manufacturing of Nikkei slide rules, later using the brand name of Relay, selling to US markets as Relay Industrial Co.
19?? - Japanese Corporate name changed to San-Ai Kekki Ltd.
April 1, 1963 - San-Ai Kekki Ltd. joins along with Riken Optical Co. and becoming part of a large conglomerate, now named Ricoh Ltd., which includes Coca-Cola distribution in Japan.
1977 - Slide Rule productions ceases.
Today - Ricoh is a major manufacturer of office equipment.

Relay/Ricoh supplied slide rules to US and European distributers and rebranded the slide rules for US and Canadian companies with names such as: Alpha, Alvin, Charvoz-Roos, Compass, Dietzgen, Eagle, Engineers, Jason, Lafayette, Lietz, Tobe, Lutz, Fuji, Micronta, Omega, Paleo, Pickett (the B1 only), Relay, Ricoh, Sans & Streiffe, SIC (Scientific Instruments Co), Skyline, SELSI, Staedtler-Mars, J.C.Penny, and Wallace & Wallace.

Many Relay/Ricoh manufactured slide rules have date codes stamped into the body of the stock. They take the form of two letters, followed by a number, such as K.K-1, J.K-1, H.K-3, E.K-5, etc. The first letter is the year, as is listed in the following table. The second letter, restricted to either S or K is assumed to be the manufacturing location. Today, Ricoh is known to have factories in the Shizuoka and Kanagawa prefectures, but at the time The significance of the number is unknown, the highest found in existing collections is 6. It could simply be a batch number.


Relay/Ricoh Date Code Locations
Year Codes
| | | | | | | | | | | | | |
| --- | --- | --- | --- | --- | --- | --- | --- | --- | --- | --- | --- | --- |
| A | B | C | D | E | F | G | H | I | J | K | L | M |
| 1952 | 1953 | 1954 | 1955 | 1956 | 1957 | 1958 | 1959 | 1960 | 1961 | 1962 | 1963 | 1964 |
| N | O | P | Q | R | S | T | U | V | W | X | Y | Z |
---
Sun Hemmi and Frederick Post brands made by Hemmi
Many Hemmi and Post slide rules after 1950 have date codes stamped into the body of the stock.
Two letters [Year][Month]. For those that don't, visit:

Paul Ross's Hemmi Slide Rule Catalogue Raisonne.

Year Codes
| | | | | | | | | | | | | |
| --- | --- | --- | --- | --- | --- | --- | --- | --- | --- | --- | --- | --- |
| A | B | C | D | E | F | G | H | I | J | K | L | M |
| 1950 | 1951 | 1952 | 1953 | 1954 | 1955 | 1956 | 1957 | 1958 | 1959 | 1960 | 1961 | 1962 |
| N | O | P | Q | R | S | T | U | V | W | X | Y | Z |
| 1963 | 1964 | 1965 | 1966 | 1967 | 1968 | 1969 | 1970 | 1971 | 1972 | 1973 | 1974 | 1975 |
Month Codes
| | | | | | | | | | | | |
| --- | --- | --- | --- | --- | --- | --- | --- | --- | --- | --- | --- |
| A | B | C | D | E | F | G | H | I | J | K | L |
| Jan. | Feb. | Mar. | Apr. | May | June | July | Aug. | Sep. | Oct. | Nov. | Dec. |
History of Hemmi Slide Rule and Misc Japanese Slide Rule dates
The following timelime and history, was taken from a large general catalog published by Hemmi Slide Rule in 1960 and research by William Lise. Expanded with Patent, logo and cursor data collected by Paul Ross and Ted Hume: Hemmi Slide Rule Catalogue Raisonne - Determining Dates

1894 - It is believed that the slide rule first came to Japan when Dr. Ritaro Hirota and Toragoro Kondo, the latter as the Head of the Construction Section of the Internal Affairs Ministry, visit the US and Europe, and bring a Mannheim slide rule back with them from France.
1895 - Jiro Hemmi, was working as a scale divider at the time, began research into manufacturing slide rules, this representing the beginnings of slide rule manufacturing in Japan. "Hemmi Jirou & Co." founded. Rules were marked "J. Hemmi" or "Tamaya" (Hemmi's first retailer).
1912 - The basis for founding Hemmi Slide Rule was established. As a result of a study made of materials, bamboo indigenous to Asia, was selected as the material, resulting in the granting of patents for a bamboo slide rule not only in Japan, but in England and France in 1917, and in the US, China, and Canada in 1920.
5/11/1917 Japanese Patent 22129 for Laminated bamboo construction.
1917 - In December, the SUN mark is established as the Hemmi trademark. Being the symbol of Japan itself, the image of the rising sun was thought to bode well for the future of the firm's business.
1917 - British Patent 107562 for laminated bamboo construction.
2/3/1920 - US Patent 1329902 for laminated bamboo construction.
4/5/1920 - Japanese Pat. 51788 for method of attaching glass to cursor. Initially used on metal-framed cursors; later on frameless .
1921 - US import marking requirement changes from "Japan" to "Made in Japan" (but not consistently enforced until ca 1925)..
c1921 - Japanese Patent 58115 .
1923 - Jiro Hemmi proposed a unique mechanical cutting method that enabled the achievement of excellent scale accuracy, and succeeded in mass production with uniform quality, this achievement winning wide acclaim.
1925 - Hisashi Okura, later to be president of Hemmi, joined the management team and succeeded in actively promoting export sales.
c1927 - Model numbering system revised. Models 1-18 dissapear; model numbers above 20 introduced..
1928 - In April, the joint capital company Hemmi Seisakusho & Co. is established. Rules are marked just "Hemmi," no longer "J. Hemmi."
1929 - The invention of the non-logarithmic P and Q scales by Drs. Sadatoshi Betsumiya and Jisuke Miyazaki was applied to the Japan's first duplex slide rule, which was sold under the model name of Universal, this product winning wide acclaim.
1929-1945 - Slide rule have "SUN" in quotes.
1931 - Gudermanian scale, Gtheta, introduced.
1933 - In July, Hemmi Seisakusho was reorganized as a stock company, with a capital of 300,000 yen.
1935 - Director Shinzaburo Ohno was sent to the US and Canada to develop marketing channels overseas. In December, capital was increased to 500,000 yen, this to be increased further to 750,000 yen in 1940.
5/4/1937 - US Patent 2079464 for Gudermanian/hyperbolic scale.
1938 - One-time research department head Eimei Hirano proposed the trig function SI and TI scales.
1940 - The main production facility was constructed in Shirako in Saitama Prefecture, hereafter to be called the Shirako Factory, on a plot of approximately 40,000 square meters (approximately 425,000 square feet). Jiro Hemmi was honored by receipt of a government award on the occasion of the 2600th anniversary of the legendary ascension of the Emperor Jimmu to the throne.
1943 - Hemmi Seisakusho constructs its Matsuyama Factory. Slide rules are used in Japanese middle school textbooks for the first time.
1945 - The Chichibu Factory is constructed, and production levels increase sharply.
1945-1950 - Rules marked "Made in Occupied Japan."
1946 - The company name is changed to Hemmi Keisanjaku KK (Hemmi Slide Rule).
1950 - Date codes introduced.
1950-51 - The Versalog slide rule is jointly developed with the Frederick Post company in the US. Standard duplex slide rules are redesigned as the new models 250, 255, 256, and 259, aimed at the US market. The slide rule is again made a compulsory part of the curriculum in middle schools.
1952 - Jiro Hemmi is honored by receiving a government award. The first edition of Keisanjaku Report (Slide Rule Report) is issued as the official publication of Hemmi Slide Rule.
August, 1952 - The manager of the Shirako Factory is sent to the US to interact closely with Frederick Post, the Hemmi representative, in research.
November, 1952 - The Tokyo Chamber of Commerce holds the first Slide Rule Competition, an event which is to be held once each year.
1953 - Jiro Hemmi dies, and is posthumously presented by the government with an award for his achievements.
August, 1954 - The president of Richardson & Company, the Hemmi Hong Kong representative visited Japan to discuss expanding the business.
1954 - In October, Alfred F. Kunz of Siber Hegner Co., Ltd., Zurich, the Hemmi representative in Switzerland visits Japan to discuss, among other things, methods of promoting the slide rule.
1954 - The Japan Chamber of Commerce establishes the Slide Rule Skill Certification Examination system, the first examination being held in November. The Chamber, with the backing of the Ministry of Education, holds its first open paper contest, inviting papers from middle school teachers on the theme of their methods of teaching the use of the slide rule.
1954 - Director Okura becomes a managing director.
1955 - Director Norio Matsumoto becomes the head of the Shirako Factory. Improvements are made in both quality and production levels. A proposed new two-story factory building, with environmental control (reinforced concrete construction) is built (approximately 1400 square meters (15,000 square feet)).
November, 1954 - R. J. Piehl, president of Frederick Post Co., visits Japan to discuss a plan for expanded business.
1956 - The 60th anniversary of founding is held, with awards given to personnel who had made contributions related to the slide rule. Developmental History of the Slide Rule is published to mark this event.
1956 - The Kinki District Slide Rule Education Association is formed by a large number of teachers directly involved in teaching.
1956 - The sales department is moved to Konnocho in Tokyo's Shibuya Ward, and capital is increased to 75 million yen.
May, 1956 - O. M. De Leon, the president of Hemmi's representative (De Leon Import & Export Co., Manila) in the Phillipines, visits Japan for the third time.
July, 1956 - A. Richardson (Mr. K. M. (Aub) Richardson), sales manager of Hemmi's Australian representative, E. Esdaile & Sons Pty Ltd., Sydney, visits Japan to discuss the Australian market.
1957 - Seiichi Matsunaga, director and head of sales, visits the US and Canada on a fact-finding mission.
1957 - With the backing of the Ministry of Education and the Japan Association for Mathematics Education, the second open paper contest, inviting papers from teachers on the theme of their methods of teaching how to establish the decimal point position.
1957 - The Kyushu Area Slide Rule Education Association is established, followed by founding of the Tokyo Slide Rule Education Association and the Shikoku Slide Rule Education Association. All of these organizations issued a publication called Slide Rule Education.
January, 1958 - The First Japanese Slide Rule Skill Certification Examination is held, with the backing of the Japan Chamber of Commerce and Hemmi Slide Rule, this resulting in a sharp increase in public awareness of the slide rule.
March,1958 - C. H. Rayner, president of Berrick Brothers Ltd., London, the English representative of Hemmi visits Japan to discuss advertising and the prospects for the future.
July, 1958 - Mrs. E A. Esdaile of Hemmi's Australian representative, E. Esdaile & Sons Pty Ltd., Sydney, visits Japan for talks about expanding the business in that market.
October. 1958 - Hemmi introduces the newly designed Model 2664S 10-inch slide rule, targeted for use in slide rule competitions and certification examinations. This slide rule uses a light green scale, a first in Japanese slide rules.
January, 1959 - The Model P23 (7-inch) slide rule, a new style of slide rule for student use, is introduced, using plastic as a material for the first time.
January, 1959 - 18th issue of the weekly Yomiuri Shukan recommends bamboo slide rules made by Hemmi, classed as a top Japanese manufacturer, in a two-page article which describes the Shirako Factory.
1960 - Hisashi Okura dies.

---
Lawrence Engineering Instruments
and Engineering Instruments, Inc.
These are easily dated, at least for certain periods, because of family situations.

Pre 1935 - Lawrence Slide Rule Company - George Lee Lawrence makes Photographic Slide rules in Chicago.
1935 - Lawrence Engineering Services was set up in Wabash, Indiana
1938 - Moved to nearby Peru, Indiana (10 man shop run by Ed Snyder)
c1940 - A glass magnifier was developed
c1942 - OEM supplier to Post (model 1446D) during WWII, when Japanese importation was halted. c1943 - Injection molded plastic cursor replaces fragile glass magnifier
1947 - A divorce settlement gives company to wife Vivian, briefly called Lawrence Engineering Company
c1948 - Vivian marries Frank C. Bozarth, forms Engineering Instruments, Inc. in Peru, Indiana
c1960 - Engineering Services OEM's the 77A plastic American Log Log (Acu-math 1500)
1967 - Company building burns down, Engineering Instruments ceases to exist.




---
Pickett All-Metal Slide Rules

1943 Pickett company founded, in Chicago, by Roswell Colvert Pickett, a printer.
1943 Art Eckel joins Ross Pickett to form Pickett & Eckel.
1944 First Pickett & Eckel slide rules made from printed paper card stock are sold.
1946 The first magnesium slide rules are made, called the Deci-point.
1946 Ross moves to California to start another division. Chicago company managed by Mr. Florian.
1948-49 Art Eckel leaves company. Ross's son, John Pickett, receives BS in Engineering from the University of Redlands
1949-50 John Pickett receives MS in business from University of Southern California
1949-50 The Eckel name is dropped from the slide rule (purportedly because of a law suit with K&E). Company name remains Pickett & Eckel
1951-1967 John Pickett joins Pickett Marketing Department
Early 1950's Pickett contracts with Cal-Pan Co. to make aluminum slide rules in Alhambra, CA.
1953-54 Cal-Pan bought out by Pickett & Eckel.
1953-54 John Pickett forms Pacific Leather Works to make slide rule cases.
1957 John Pickett becomes president of Pickett & Eckel.
1964 Pickett moves to Santa Barbara.
1964 Pickett family sells company to Times Mirror Co for $1.5 million. Name changes to Pickett Industries.
1967 John Pickett leaves Pickett Industries.
1969 Roswell (Ross) Covert Pickett dies Dec 23, 1969 in Santa Barbars, CA.
1974 Pickett moves to Nogales, Arizona from Santa Barbara, CA, with a new manufacturing facility in adjacent Nogales, Sonora, Mexico
1975 Pickett Industries combined into Chartpack/Pickett under Chartpack management.
August 1976 Slide rule manufacturing ends. Drafting supplies continue.
September 1980 Pickett begins closing the Nogales, Sonora, Mexico plant and moves HQ and operations to a new plant in Tucson, Arizona..
c1980 Dick Schwartzer buys the entire Pickett slide rule inventory that was destined for scrap
January 1981 The closure of the Nogales, Arizona facility is completed.
1985 Pickett Industries sold to Chartpack.
1998 Manufacturing combined with Chartpack in Leeds, Massachusetts.
1999 Pickett-Chartpak Industries Division continues manufacturing art and drawing templates.
2005 Current address: Chartpak, Inc - One River Road - Leeds, Ma 01053 (413)584-5446
2005 Dick Schwartzer dies. A large inventory of plastic Picketts left unsold.
Timeline researched by Bruce Reichelt, expanded by Mike Konshak, corrections by Douglas Harland


From 1945 to 1975 the Pickett design evolved to improve quality and to increase productivity. The stock, slide, cursor and logo all are clues to determining the manufacturing dates.
---
Determining Dennert & Pape Dates and Aristo Manufacturing Codes
1863 - Dennert & Pape (D&P) founded as an instrument company.
1872 - Slide rules Added to product line
1886 - Patent DRP 34583 granted. Veneered white celluloid on mahogany.
1936 - 'Aristo' as a trademark begins use.
1936 - Slide Rules made entirely of Astrolon (polyvinylchloride)
1956 - Aristo part of company name, Aristo-Werke Dennert & Pape KG.
c1965 - Aristo builds large factory to produce slide rules.
1972 - Aristo produces its first four-function electronic calculator (attached to slide rule).
1978 - Stops production of all slide rules and electronic calculators
1979 - Aristo sells off remaining inventory of slide rules to Rotring (in US known as Koh-I-Nor).
Expanded Dennert&Pape/Aristo timeline
The following explanations are courtesy of Greg Scott adapted from Greg's Slide Rules

Post WWII Aristo rules all have a manufacturing code on one edge of the rule. This is usually a combination of alpha and numeric codes which defines the rule's factory of manufacture, year of manufacture and batch number.

Code Details There are three code segments, The factory, year of manufacture and lot number. The lot number is self-explanatory.

Examples of date codes:

2FX16 - Manufactured 1969 in lot 16 in Hamburg
4FE02 - Manufactured 1968 in lot 02 in Wörgl
3LS06 - Manufactured 1973 in lot 06 in Geretsried
WLS32 - Manufactured 1973 in lot 32 in Wörgl



Factory codes:
1st character, either alpha or numeric.

| | | |
| --- | --- | --- |
| Letter Code | Number Code | Factory |
| H | 2 | Hamburg |
| G | 3 | Geretsried |
| W | 4 | Wörgl |

Year Code: 2nd & 3rd Character
Up to about 1959 dates were included in the manufacturing code as a number after that the alpha codes were used.

| | | | | | | | | | |
| --- | --- | --- | --- | --- | --- | --- | --- | --- | --- |
| A | R | I | S | T | O | F | L | E | X |
| 0 | 1 | 2 | 3 | 4 | 5 | 6 | 7 | 8 | 9 |

Lot Number: 4th & 5th Character

---
Albert Nestler Timeline
1878 - Albert Nestler and Theophil Beck establishes factory in Baden, Germany to make slide rules. Company named Beck and Nestler
1878 - at the beginning Nestler works with dividing engine
1886 - Slide rule have celluloid laminations on mahogany stocks and slides by Dennert&Pape, Scales divided by Nestler factory.
1890 - Produces Universal Slide Rule (also exported for K&E, Dietzgen and other more in the USA).
1890 - Glass cursor with metal edge guides used.
1900 - Nestler begins making their own cursors for slide rules.
1901 - Albert Nestler dies. Succeeded by sons Albert and Richard.
1901 - Laminations reinforced with screws
1902 - Model number based on simple digits 1, 2, 3,...40,44, etc.
1902 - Max Rietz patent 181110 puts on 2 scales for cubic and mantisse and T & S on the slide. 1903 - Nestler produces first "Rietz" scale set based on Max Rietz Patent and it becomes Nestler's highest seller in Germany.
1905 - Nestler starts manufacturing their own stocks. Some slide rules having D&P stocks are sold many years afterwards until inventories are used up. (about 1911).
1905 - Nestler Patent DRP 173660 with "springy back plate pressed against the ruler". Metal sheetmetal framed cursor introduced.
1908-1911 - "ALBERT NESTLER LAHR i/B" used as logo in well of Nestler and D&P stocks
1910 - Semi-circle magnifier glued to some glass lens provided as an option.
1911-12 catalog shows 56 different models
1922 - Company becomes "ALBERT NESTLER AG".
1923 - Albert Nestler's daughter becomes a slide rule provider to Nestler, MASSAG in Schaffhausen, Switzerland
1924 - A French book describes 32 models of Albert Nestler slide rules.
1928 - Plastic edge cursor attached to sheet metal cursor with screws
1928 - Mahogonay duplex slide rules introduced (American 29)
1934 - all plastic(celluloid) pocket slide rules introduced
1934 - some low cost slide rules with folded plastic film cursors intriduced
1938 - Catalog shows model number from 1 through 43. 28 cursor designs are shown.
Pre-WWII - Nestler is shipping slide rules to 60 countries - see Nestler Country Family Tree
1941 - Bright metal plated metal (steel) framed cursors introduced
1945 - Production facility damaged by war and equipment confiscated by French occupation forces.
1950 - Nestler family makes a new beginning, creating new models of simplex Rietz, Darmstdt and Electro. Screws on laminations
1951 - Screws on laminations removed as adhesives are improved.
1951 - Injection molded all-plastic cursors introduced
1954 - Some slide rules are made in Switzerland (Nestler daughter MASSAG in Schaffhausen since 1923)
1955 - All plastic double-sided slide rules introduced. Polymath, Multipath, Rietz and the "School" series
1955 - Company name is now just "NESTLER".
1955 - 2-digit model numbers replaced with 4-digit numbers.(beginning with "no.0320 Oilrule,system Schmeling)
1962 - Metal and plastic duplex slide rules introduced.
1967 - Catalog shows 30 different slide rule models with 7 demonstration models.
1972 - Nestler OEM's slide rules from Uchida Yoko Co. Japan
1978 - Nestler stops selling slide rules after 100 years due to the electronic calculator. Company concentrates on drafting equipment and CAD software on computers.
1994 - Company closes down.

---
Time Line for A.W. Faber and Faber-Castell
1761 - The cabinet-maker Kaspar Faber produces his first "lead pencils".
1784-1839 - Anton Wilhelm Faber (1784-1810) and son Georg Leonard Faber (1810-1839) expand the pencil workshop in Stein near Nuremberg, Germany. The company is now called A.W.Faber.
1840 on - Lothar Faber (son of Georg, the fourth generation) produces the hexagonal-section pencil, develops the first quality pencil in Germany and marks it "A.W.Faber" - the brand name is born.
1861 - Lothar von Faber establishes a factory to build slates, drafting equipment and rulers in Geroldsgrun, Germany
1874 - With his petition to the German Federal Diet "for legislation to protect trade marks", Lothar von Faber paves the way for the German Trademarks Act (May 1875).
1880-1891 - Lothar von Faber is made a baron by King Ludwig II (1881) and a hereditary privy councilor by Prince Regent Luipold (1891).
1892 - First Faber slide rules appear made of Boxwood.
1895 - Adds celluloid facings to Boxwood body and slides
1898 - Registered Design D.R.G.M. of 98350
1898 - The marriage of Lothar von Faber's grand-daughter Ottilie to Count Alexander zu Castell-Rudenhausen brings a change of name for the family and the company: Faber-Castell. At some point the company grows to 1000 employess.
1899 - Introduces framed cursor with glass glued in frame
c1900 - Charles N. Pickworth writes the English versions of A.W. Faber's slide rule manuals. Distribution in United States begins in Newark, New Jersey.
1905 - Firm's name officially changed from A.W. Faber to A.W.Faber-Castell. Trademark still has a stylized balance scale marked A.W.Faber
1907 - Springy-stocks are introduced (DRP 206428) to keep tension on the slide.
1912 - Model number series "3XX" assigned to slide rules.
1912 - Body and Slide now made of celluloid faced boxwood.
c1913 - trademark becomes A.W. Faber followed by two framed towers which lay horizontal and bracket the word CASTELL.
c1920 - Single-digit Date Codes appear on SR's using the last digit of the year. 1927 was stamped 7.
1924 - Body and Slide now made of celluloid faced Mahogany.
1928 - After the death of count Alexander, his son Roland Castell takes over the chairmanship at age 23.
1930 - A.W.Faber appears only on simple slide rules for beginners.
1930 - Two-digit Date Codes appear on SR's using the last two digits of the year. 1937 was stamped 37.
1935 - Prof. Wather's System Darmstadt slide rule introduced.
1935 - Model number system changes to 1/XX or 1/XX/3XX. Example: "387" becomes 1/87/387 then just 1/87. 4/XX used for 50cm slide rules.
61/ (all celluloid) and 63/ (wood with celluloid scales) used for 12.5cm pocket slide rules.
1937 - Carl Kubler's Brass fabricated Addiator attached to back of slide rules. DRP 655353
pre-WWII - Swiss Pearwood becomes the wood of choice
1946 - Geroldsgrun factory survives war, began slide rule production.
1946-1948 - Beech is used for stocks and slides. Pocket slide rules made of Celluloid.
post-WWII - Shortages cause Addiators to be made of sheet metal instead of brass.
1948-1950 - Maple is tried.
1950 - CASTELL appears on left end of the slide.
1950 - 'Special Wood', a composite wood with laminated scale surfaces.
1951 - Production of slide rules from Astrolon sheet resumed. Slides and stocks milled to make grooves and flanges.
1952 - First all-plastic injection molded (Geroplast/Polystrol) closed body slide rules are introduced.
1952 - Injection molded models of previous wood types now add "11" to designator. 1/87 becomes 111/87.
1952 - Injection molded models with new scales systems on closed body SR's introduced, models 57/82, 57/22, 57/88, 57/89, etc. and injection molded Duplex models 52/80, 52/82, etc.
1954-55 - Injection molded Addiator tried, then switched back to sheet metal.
1956 - Castell-Duplex 25cm 2/82, 2/83, etc and 12.5cm 62/82, 62/83, etc appears with screwed on sheet metal end braces.
1962 - Castell-Novo-Duplex 25cm 2/82N and 2/83N appears with screwed on die-cast metal end braces. The 12.5cm 62/82 and 62/83 pocket versions use injection molded braces on one side only.
1972 - Combination Electronic calculator and slide rule designed, Model TR1, TR2, TR3.
1976 - All production of slide rule and calculators ceases.
1985 - Bavaria Film shoots the four-part TV series "Fathers and Sons" in the Faber-Castell Castle, Starring Burt Lancaster, Julie Christie and various German actors.
1991-1997 - Ex-product manager, Dieter von Jezierski, captures the history of Faber-Castell in his book Slide Rules - A Journey Through Three Centuries (Astragal Press).






A.W. Faber Date Of Manufacture
Medium 312KB

---
Time Line for Gilson Slide Rule Company (USA)
Brief History
1915 - Company founded by Claire A. Gilson in his home Niles, Michigan.
c1915 - First Midget circular slide rule, C, L and trig function scales on printed paper glued on 3-3/8" diameter 1/4" thick plywood disk. 2 steel "crow's foot" cursors. Scales have embellishment e-lines.
c1915 - Applies for patent, disk states Patent Pending.
1917 - Son, Richard A. Gilson, is born.
1916-1918 - Slide rule has paper scales glued to 3-5/16" diameter steel disk. 2 cursors on front.
c1919 - Gilson buys Richardson Rule Works from George W. Richardson, presumably for printing process.
1919 - Copyright 1919, Midget type II, printed black scales on white celluloid enamel on steel disk. 2 celluloid cursors, 9 scales. C, CI, L, A, Binary, One turn Log-Log, Fraction, Drill and Thread, Trig functions, CFD.
1-17-1922 - Patent 1,404,019 granted, seven claims, most involve the cursor.
1922 - Midget Type III, printed black scales on white celluloid enamel on 3-3/16" aluminum disk. celluloid cursors on front, 9 scales. C, CI, L, A, Binary, 2 turn Log-Log, Fraction, Drill and Thread, Trig functions, CFD. E-lines removed on front. c1922 - Atlas rule introduced, a long spiral scale on a 10" square substrate.
1927 - Gilson moves family and business to Stuart, Florida. Type III Slide rule artwork reflects new location.
1931 - Copyright 1919 and 1931, Midget Type IV, marked Tavella Sales Co., adds cursor to back. 4-1/16" diameter aluminum disk. All e-lines removed. New trig scales.
c1932 - Midget Type IV, Version II. 4" diameter disk. Printing has no reference to Gilson, presumably because of OEM sales to Dietzgen, Post, and others.
c1932 - 8" diameter version of midget, called "Apex" is introduced. (this will be rename "Binary" later.
1934 - Commercial calculator, 4-15/16" diameter disk, white celluloid enameled. Scales C, CI, Rate, Day, Month, Year.
c1935 - Midget Type V, No e-lines or Log-Log, more detail on C scale. Shows Copyright 1931 and patent date 1-17-22. 4-1/16" diameter disk.
c1935 - Atlas rule changed to 8-5/8" diameter disk. Richard Gilson, still a teenager, calculates and draws the scales and divisions, resulting in a 75 foot effective scale good for 4 decimal places.
1936 - Copyright 1931 and 1936, Midget Type VI, light cream color, 4-1/4" diameter disk. Key marks on C scale extended. Artwork shows just "Patented". (patent may have expired).
c1936 - Apex renamed to "Binary".
c1939 - Midget Type VI, version II. Plastic celluloid 4-1/4" diameter disk, 3 cursors. Shows copyright 1931 and 1936. No mention of patent.
c1945 - Midget Type VI, version III. Green celluloid on aluminum. Shows "Patented", Copyright 1931 and 1936. OEM to Post 44EAE630, Dietzgen 1797M. Manuals show Gilson Slide Rule Company, Stuart, Fla.
1960 - Gilson Slide Rule Company sold to Daniel W. Fagen, a local machinist and owner of a moving and storage business. Business remains in Stuart, Florida.
c1960 - Clair Gilson dies before being able to fully train the new owner in the production techniques. Fagan studies the stamping presses, plating, printing and polishing equipment and continues production as a family operation.
1968 - Leatherette pouches are now heat seamed, instead of stitched around edges.
1968 - 1968 Dieterich-Post catalog shows Midget 4" diameter. (no. 2555) and Binary 8-3/16" diameter. (No. 2560) in catalog. States white celluloid over aluminum disks.
c1970 - Gilson Binary Slide rules are listed in a Teledyne-Post Catalog. (Teledyne bought Post in 1968).
c1975 - Daniel Fagan sells company. Aside from the new owner's lack of mathematical ability and inexperience with machinery, Gilson's demise was associated with the same fate as other manufacturers with the arrival of the electronic calculator.

---
Time Line for the Festus Mfg. Co., Acu-Rule Mfg. Co., Sterling Plastics
Courtesy of George E. Keane, appended by Mike Konshak.
1938 Paul Jones Jr. started the Festus Mfg. Co. making Acu-Rule slide rules
1939 Paul Jones takes control of the company in June and renames it Acu-Rule Mfg. Co. By August he has hired a New York Sales Agent and was selling in gross quantities.
1940 The company is chartered as a Missouri Corporation in April and moved to 623 Del Monte Way, St. Louis, Mo. Rebrands slide rules for Dietzgen, Van Nostrumm, Post and AREL.
1944 Company officers are listed as President, Paul Jones; Vice President and General Manager, Russell Queen; Secretary & Treasurer, Katherine Jones
1945 Paul Jones dies July 28th. Harry S. Gleick is vice-president
1945 War time restrictions on raw materials lifted.   A Trig slide rule is produced and a new manual design is used.
1946 President is now Willfred J. R. Boos
1946 Acu-Math brand appears on slide rules made with magnesium cores. Acu-Design also appears, presumably as a side line of W.J. Boos providing scale artwork to other slide rule manufacturers.

1947 Nicholas Muschong becomes vice-president. Katherine Jones leaves the company
1948 Development of slide rules made of vinyl
1949 Wilfred J. Boos files for a Slide Rule Patent (example: Charvos-Roos 105D). Major claim is a one piece injection molded cursor.
1950 The Acu-Rule Mfg. Co. files to establish the Acu-Math Co. in Illinois on April 14, but the name was never used except as a brand name. (This is the same day G. L. Lockhart declared Bankruptcy.)
1952 U.S. Patent 2,594,857 issued, listing Wilfred J. Boos as inventor and assigned to Acu-Rule Mfg. Co in St. Louis, MO. The patent was filed in 1949.
1954 The Muschongs file to charter the AcuRule Mfg. Co. in Illinois with the registered office in Mt. Olive. Charter granted in April. Acu-Rule is on the Mt. Olive tax rolls.
1956 P. W. Muschong joins the company. Mary Jane Muschong is Secretary. The office is relocated to 4969 Tholzan St. St. Louis. The company location is listed as in Mt. Olive, Illinois.
1959 The St. Louis office location is 8855 Bracken Circle, Affton, Mo.
1964 The St. Louis office location is 13050 Woodley Lane, St. Louis
1968 George and Mary Staab of Mountainside N.J. buy the company in June 25 and operate for about a year in Mt. Olive as Sterling Plastics Company.
1969 The company is moved to Mountainside N. J. In April the Staabs file to dissolve the Acu-Rule Mfg. Co. in Missouri and the final Certificate of Dissolution is issued in September.
1970 Sterling Plastics is purchased by Borden Chemical. In March the Staabs file in New Jersey to withdraw AcuRule Mfg. Co. as an Illinois Corporation.
1972 Last known year that Borden produces Sterling Acu-Math slide rules.

---
Time Line for the Slide Rule & Scale Engineering Co.
Parts courtesy of George E. Keane
1930 G L. Lockhart establishes Slide Rule & Scale Engineering Co. located at 511-512 First National Bank Building, in Laporte, Indiana.
1931-1944 Sometime in this period SR&SE moves business to New Carlisle, Indiana.
1945 Lockhart states plans to rent the Niemann Poultry Supply factory at 5th North St. on October 5 and locate in Mt. Olive, Illinois.
1946 On March 15, an Open House is held in Mt. Olive to initiate production. In July SR&SE is incorporated to do business in Illinois.
1947 Largest fire in Mt. Olive history destroys a large part of the plant; $100,000 loss. Plans are made to rebuild and some production is started.
1948 George Lockhart meets with Industrial Group requesting they rebuilt their factory
1949 Lockhart requests a loan of $12,000 to rebuild the plant. G. L. Lockhart is not on the tax rolls. George M. and Don Lockhart and the company are listed.
1950 On June 30th Chancery No. 97536 is filled for dissolution of the corporation. The plant is never rebuilt and the Slide Rule and Scale Engineering Co. is declared Bankrupt in April. In September the creditors meet in Carlinville, Illinois.
1953 No Lockharts on the Mt. Olive tax rolls. The Mt. Olive Herald reports that Acu-Rule Mfg. Co. will buy property and relocate from St. Louis.
1954 In September the Mt. Olive Industrial Association votes to dissolve.
1957 A Lockhart Concrete calculator copyright 1957 is produced printed with the name Slide Rule Calculator Co., Ownsboro, KY. Assumed to be another attempt by Lockhart to make slide rules or another company licenses his design.

---
Time Line for Chinese Slide Rules
Courtesy of Liu Qinglin, Beijing, China
1931 The SIDA Ruler Factory founded, the earliest slide rule manufacture in China.
1931-1948 Small slide rule manufacturers were founded, one after another, But very small and undeveloped.
1949 Peoples Republic of China (PRC)founded. Private enterprise begins to be banned, but the post WWII Chinese civil War drained capital necessary for the economy.
1950's Gong Si He Ying (joint state-private ownership) used on some products as state still relies on some private funding.
1956 The People's Republic of China (The communist Party) forced a change in the their writing from traditional cChines Characters to Simplified Chinese characters. Latin letters and numbers can be found in slide rule instructins written after this date.
1958 Xuesh, Qiu Fan, He Nong, Xin He, Ding Feng,etc. merge into SIDA. SIDA becomes the largest slide rule factory in China.
1960's No private funding of manufacturing, commerce or any enterprise allowed in China
1966 Sida Ruler Factory changes name to Shanghai Slide Rule Factory.
1978 All private enterprises allowed once more in PRC.
May 1, 1982 Shanghai Slide Rule Factory and Shanghai No.1 Pencil Sharpener Factory merge. Name becomes Shanghai Stationery Factory
1982 Standard mathmatical slide rules discontinued in favor of electronic calculators.
1982-1990 Shanghai Stationary Factory retains a shop for produce specialty slide rule.

---
Time Line for Charvoz-Roos Slide Rules
November 1939 - Charvoz, Inc., formed at 185 Hackensack Street in East Rutherford, NJ. The heads of the company were Andre Charvoz, said to be president of Manufacture Francais de Compas of Ligney-en-Barre, France, and Samuel Sanders of Teaneck, N.J., president of L. Oppleman, Inc. Manufacture [and importing] was to take place in East Rutherford. (New York Times, November 4, 1938, p. 43).
c1941 The Roos Company, a business partnership, is formed to manufacture slide rules to fill the shortages of WWII caused by import restrictions from Germany and Japan. Officers consisted of Andre Charvoz, Angele Charvoz, Abel Gottheimer and Ethel R. Gottheimer, and located at 280 Madison Avenue, New York City, NY. [opinion: The Gottheimers manufacture the basic stock and slide using painted wood or printed laminate scales, while Charvos handles marketing] Plastic components presumed to have been supplied by Acu-Rule.
c1941 Andre Charvoz successfully markets re-branded slide rules to Frederick Post who was rebranding Japanese Hemmi and Dietzgen who rebranded German Nestler. Early slide rules marked Charvoz-Roos were identical to Post 1442, 1447-D, 1452-D, 1462 and Henschel 2020.
1945 The Roos Company is distributing "Charvos" [sic] drawing instruments. Its products included scales, slide rules, drawing pencils, triangles, protractors and parallel rules. (Roos Company trade literature).
June 14, 1946 The Roos Company, which consisted of Andre Charvoz, Angele Charvoz, Abel Gottheimer and Ethel R. Gottheimer, and was still located at 280 Madison Avenue, was dissolved. (New York Times, June 21, 1946, p. 2).
July 8, 1946 - Charvoz-Roos Corporation is incorporation, address still at 280 Madison Avenue, New York (NY Times, July 8, 1946, p. 41).
1946 - Charvoz-Ross begins importing Hemmi slide rules marked "Made in Occupied Japan".
c1950 - Charvoz-Roos begins importing Aristo slide rules from Germany
1951 - A note indicates that a firm known as the Solar Instrument Company planned to import Steindorff microscopes from Berlin and distribute them through Charvoz-Roos Corporation of 101 Fifth Avenue (NY Times, March 17, 1951, p. 32).
June 11, 1953 The Charvoz-Roose plant at 185 Hackensack St. in East Rutherford was sold
June 1953 - Charvoz-Roos Manufacturing Company was in receivership (NY Times, June 11, 1953, p. 51).
c1954 - "Charvoz" emerges as only brand name on German imported Aristo Slide rules. Presumably Andre Charvoz, now 64, carries on with import business located at 50 Colfax Ave, Clifton, New Jersey.
1969 - Andre Charvoz (1892-July, 1969) died Clifton, New Jersey)
1979 - Abel Gottheimer (1891-1979) - died Nassau, NY. According to a death notice for Abel Gottheimer, his wife Ethel predeceased him (NY Times, November 18, 1979, p. 44).
1982 - Angele Charvoz (1900-February 1982) died Clifton, New Jersey


Thanks to Peggy A. Kidwell, Curator of Mathematics,Smithsonian Institution for contributing research. Smithsonian museum's trade literature, the Proquest newspaper database, and the Social Security Death Index.
---
IWA history Timeline
Circa 1920 - Jacob HUBER filing the mark in ZURICH NORMUS and markets rules and sliders cardboard under its brand.
1924 - E. WILLI acquires exclusive rights to manufacture and ditribute rules NORMUS for Germany, Austria, Hungary and Russia. NORMUS also manufactures its own models that is sold under the brand IWA. With his friend, Franz RIEHLE, he founded the company Dip.-Ing. E. Willi GmbH. Willi GmbH.
1926, IWA some models are made of plastic. The company takes its name from IWA - Rechenschieberfabrik F. Riehle GmbH. Riehle GmbH.
1928 - Mr. ORBRECHT acquires distribution rights of NORMUS for France, it also manufactures its own rules under the brand OMARO.
The relationship between these three brands is made public.
1952 - The year is marred by the deaths of founder F. RIEHLE The company remains the property of the family. is 1961 - Harald RIEHLE joins the company. He takes the leadership in 1964.
IWA continues to make rules, cursors and abacuses, it is estimated that the company made 11500 models since 1945 and is currently represented in France.
The note was written from data found on the German site rechnerlexikon.de.

Provided by Daniel Toussaint, France

---
Fowler history Timeline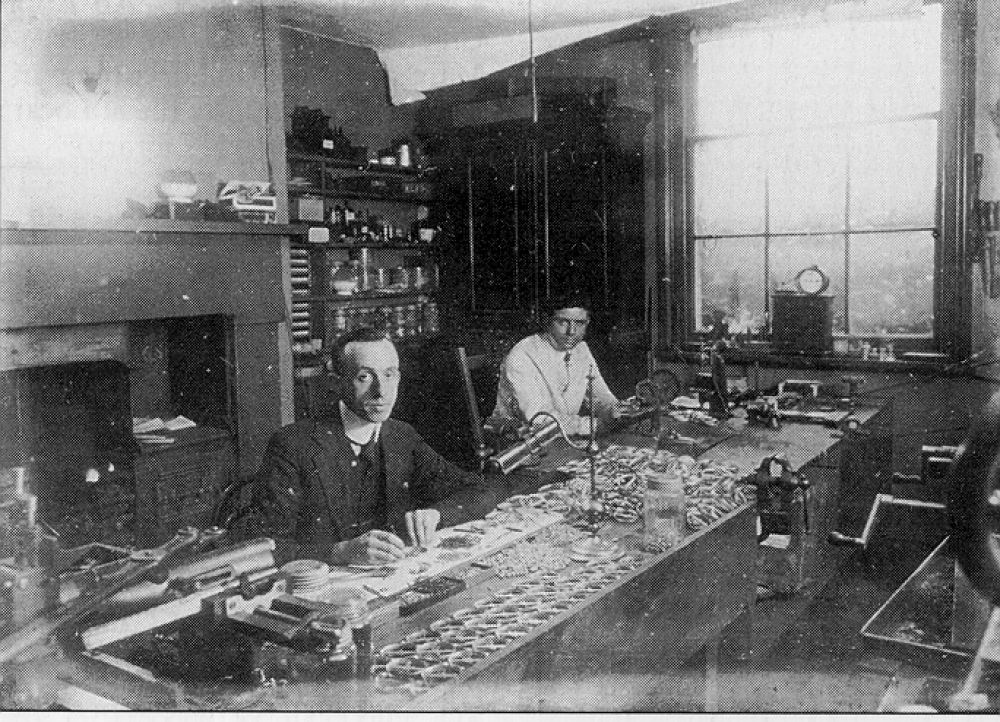 Harold Fowler with assistant at Fowler Factory 1908

1853 - William Henry Fowler was born in July, in Oldham.
c1867 - At 14 years old, William begins engineering training at the Oldham firm of Platt Brothers, textile machinery manufacturers, and later became a draughtsman.
c1873 - At the age of 20, he won a Whitworth Scholarship and studied for four years at Owens College in Manchester. He was then appointed as Assistant Engineer to the Steam Users' Association.
1888 - He became General Manager of the Chadderton Ironworks Co.
1891 - W. H. Fowler's career took a different turn and he became Editor of The Practical Engineer, a weekly journal published in Manchester.
1898 - he set up the Scientific Publishing Company on Corporation Street, Manchester. It soon moved to 53, New Bailey Street in Salford and published Fowler's Mechanical Engineer's Pocket Book, the first of a series of annual pocket books for a variety of trades.
1898 - Fowler's The Mechanical Engineer carried an article on a circular calculator. It had a nickel-plated case and consisted of a revolving dial, operated by a milled nut at the top, and fixed pointers moving over five scales on its face. Records do not show who designed this instrument or where it was made; it was sold via the Scientific Publishing Company.
1879 - W. H. Fowler's son, Harold is born, initially followed in his father's footsteps, winning a scholarship to the Manchester School of Technology and then to Owens College where he studied engineering.
1905 - Harold worked as an electrical engineer until 1905, when he began working for the Scientific Publishing Company and helped with editorial work of The Mechanical Engineer.
c1908 - Harold also spent a lot of time designing circular calculators and, in around 1908, set up a workshop for their manufacture in a room at his house, Sale Lodge, in Sale. He soon had an assistant to help with assembling the calculators. W. H. Fowler may have financed the purchase of equipment.
1908-1912 - W. H. Fowler takes out three patents in the next four years, the first covering the double-sided Long Scale or Pocket calculator that was to be the mainstay of production for the next 30 years. The business, however, was never very profitable. Circular calculators had a large number of different parts, compared with straight slide rules, and had to be assembled by hand. Production costs were therefore high and the calculator cost four times as much as straight slide rules.
1914 - W. H. Fowler had moved to a smaller house, Oakleigh, The Avenue, Sale, where he set up a better-equipped workshop. Harold had married an actress and was living at Alston, Old Hall Road, Sale.
1920 - the Fowlers moved the business to larger, separate premises at the Station Works, Chapel Road, Sale. The company introduced the Universal calculator, which was a single dial instrument with a scale of up to 10in (25cm).
1924 - William Henry and Harold took out a joint patent for a development of the calculator, in which an extra milled nut was fitted to the casing edge, enabling the user to move the dials on the two faces with the fingers of one hand. They adapted the patented Long Scale calculator to include this feature.
1927 - the company introduced the Magnum Long Scale calculator which had a maximum scale length of 50in (127cm).
By 1929 - Fowler and Co. employed four machine operators and a works manager. The business was still not very successful, however, and took in various engineering jobs to support the calculator making side.
1932 - W. H. Fowler died in April, and Harold became owner of the firm.
1936 - the company had introduced another model, the 12-10 calculator, designed for architects, builders, surveyors and timber merchants who often had calculations to make with decimal and duodecimal (12ths) notation. All the company's products were still marketed through the pages of the Fowler's Pocket Books.
1938 - The business moved again, to Hampson Street, Sale, when the Chapel Street works was demolished to make way for the Town Hall extension. It continued to be a general engineering workshop as well as making circular calculators.
WWII - During the Second World War, Jim Cookson joined the business as the new manager and the company's name was changed soon after to Fowlers (Calculators) Ltd.
1947 - Listed Exhibitor - British Industries Fair. Manufacturers of "Fowlers" Circular Calculators, Vest Pocket Instruments Give Accuracy equalling 30 in. Slide Rule, larger Models 50 in. results to four and five significant figures. Fowler's Universally Known Engineers and Architects' Pocket Books. (Olympia, 1st Floor, Stand No. H.2182) [2]
1948 - the company introduced the Jubilee Magnum extra long scale calculator which enabled calculations to five or six figures and had a total scale length of 76in (193cm). Later, it produced several new models including the Type B or Textile calculator. The company marketed its full range through Joseph Casartelli and Sons, scientific instrument makers of Salford, as well as through the Fowler's Pocket Books. Jim Cookson ran the business after Harold Fowler's retirement.
early 1960s - the company takes over as proprietors of the Scientific Publishing Co, which had moved to premises in West Timperley, near Altrincham, in the early 1940s, again, in the early 1960s, to the Rochdale Road, and was in business until about 1976.
c1988 - Fowlers (Calculators) carried on trading until it went into liquidation in around 1988 following Jim Cookson's retirement.
References: [1] British Museum of Science and Industry, [2] 1947 British Industries Fair, p106

---
Unique Slide Rule Company Limited
1920 - Burns Snodgrass (1886-1954) M.B.E, A.R.C.Sc., a mechanical engineering lecturer at Brighton Technical College. He manufactures his slide rules by himself on a part time basis.
Oct, 1921 - The first run of slide rules is delivered to Norton and Gregory, wholesalers of math instruments. 1928-1929 - Snodgrass produces his first Log log slide rule.
1930 - Electricity is first used to assist production.
1931 - The first employee is hired to help Burns. An advertisement in the Daily Mail shows the price of the slide rules at 12 shillings.
1934 - Ronald Clayton Snodgrass, still in High School, works in the shop.
1934 - Ronald Clayton Snodgrass,returns from 6 years in the RAF during WWII and begins marketing slide rules and other math instrumnets around the world. He travels to .all parts of the British Empire, the USA, Japan, Australia, the Middle East and South America.
Dec. 1936 - Burns Snodgrass resigns from Brighton Technical College to work full time on the business. Unique now has 5 employess. The first saw bench is acquired.
1946 - UK Patent 583,637 issued. May be marked on slide rules up to 1950 or later.
1951 - Unique becomes a Limited Company, "The Unique Slide Rule Company, Limited"
1954 - Burns Snodgrass dies. The company is now subsequently managed by his son, Donald Clayton Snodgrass.
1955 - The popular text "Teach Yourself the Slide Rule" ©1955, written by Burns Snodgrass is first published.
1965 - All-Plastic slide rules introduced and continue to end of production.
1975 - Production of slide rules ceases. They continued manufacturing other mathematical instruments up until 1993.
1976 - Unique is ranamed to "Unique Instruments Limited"
1980 - Donald's health forces his wife, Mrs. Elain Snodgrass to become managing Director. Ronald still remains as the Director of the company.
1982 - The company employes 25 people, including several family members.
1993 - Donald Snodgrass dies. Family stops doing business

References: Unique Slide Rules by Peter Hopp, Colin Barnes and John Knott. JOS Vol. 6, No. 1, March 1997, page 32-44.